Description
It often happens that you want to / have to show individual videos on a website. Not too many, but these should then also be presented beautifully. To install a heavy component for this purpose is mostly overkill. But if the files are needed to be updated by third parties or as easily as possible, it becomes more difficult to find a suitable solution. And this is where our AgileVideos module comes into play and saves your day!
Easy but powerfull
Yes, that's how it should be - easy & powerful. Our AgileVideos module acts after the initial setup completely maintenance free. You define which folders should be monitored and optionally whether only registered users are allowed to have access to the videos. You can easily enable or disable this optional protection per monitored folder in the module settings (more on this below).
Once the setup is complete, you or your customer can easily upload / delete videos via FTP or Media Manager. Every change to the file system of a watched folder will be reflected in the frontend after a reload of the page.
In addition to the locally stored videos, the module can also include external sources. This allows you to easily integrate content from Youtube or Vimeo as well as from external servers in addition to the locally stored videos. All you need is the direct URL to the video. Isn't that great?
Stay agile
AgileVideos has been optimized for dynamic concepts. Once set up, the module manages everything on its own. Create rules for video labels with the Prettyfier. Add new videos or delete old ones in the media manager of your choice or directly on the FTP server - the module takes over your changes.
Control access to your files
The agileVideos module includes a new feature that allows you to automatically protect files within a shared folder from external access. If the option is enabled, only registered users (with an account) can see / access the files.

Note: The agileVideos module does not support advanced permission settings at the file level. It currently distinguishes only registered users and guests. So it can only be used for "simple" file protection.
Note: This protection function uses the standard htaccess protection with the help of a backend script and can therefore only be used on Apache web servers. Microsoft server installations are currently not supported.
Multi-Folder Support
You can feed an instance of the "agileVideos Module" with an unlimited number of sources and define for each of these sources whether it should be publicly accessible or not.
But remember: the protection used via htaccess is also applied to subfolders!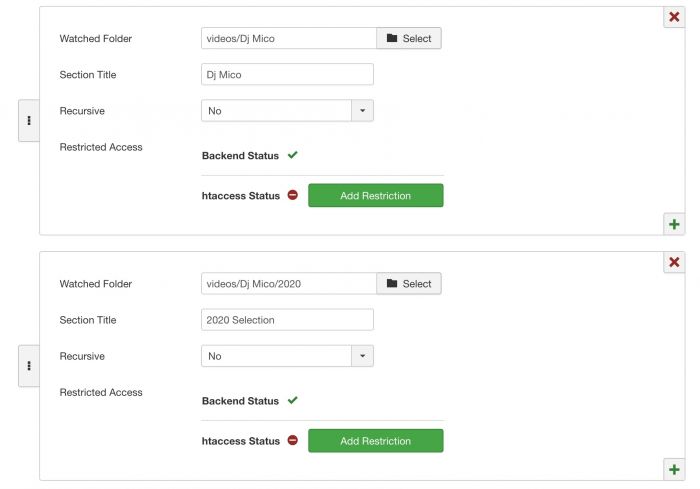 Prettyfier 2.1
The improved version of the Prettyfier included for free.
The Prettyfier is a code component that allows to modify labels / texts by own rules. The handling is very simple - via the backend module rules can be defined which are applied one after the other. With our Prettyfier you can define rules so that the web safe filename is not listed in the module. So from "my_ugly_but_safe_Filename.jpg" can be displayed as label: my ugly but safe Filename. And Prettyfier can do even more. By freely defining rules, even the complete name can be customized and parts of it can be deleted. The options are incomparable.