Joomet
Joomla Language File Analyser & Translator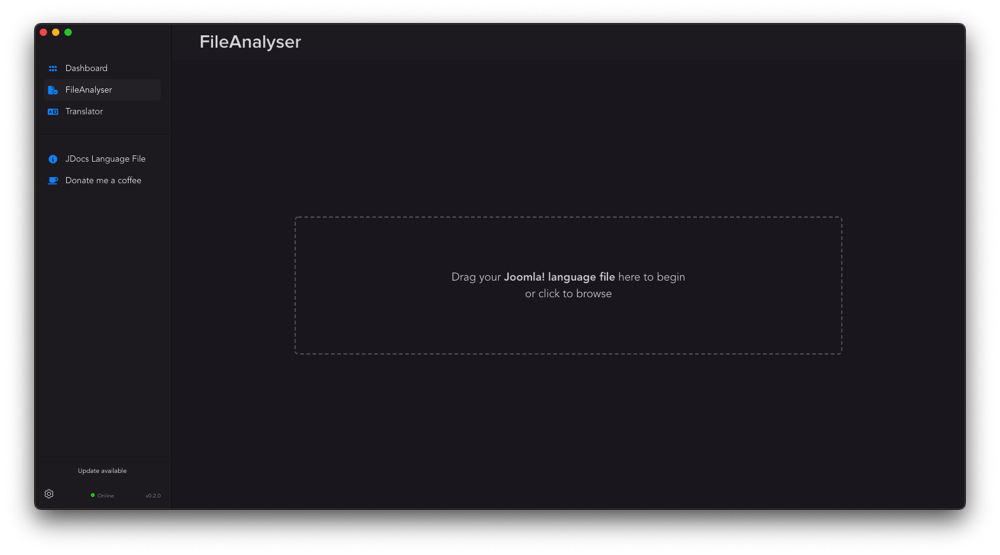 When translating your Joomla extension, didn't you constantly think "this has to be easier / faster"? Have you also caught yourself making careless mistakes after you've spent several minutes or even hours internationalizing your Joomla extension?
Or even worse, after you finally finished internationalizing your Joomla extension you realize that a bug must have crept in somewhere?
On average you need about 23 seconds to translate a language string (copy >> paste in translator >> translate >> copy >> paste in new file) if you work manually with DeepL or Google Translator, for a language file with 500 lines this means up to 3 hours per language! Joomet can do this within a few minutes and you can even do other things in the meantime.
Download
Joomet is available as a desktop application for Windows, MacOS & Linux for free:
FileAnalyser
Joomet includes a powerful file analyser that checks your language file for errors and ensures that it complies with the Joomla! language file specifications.
Ruleset
The Joomet FileAnalyser checks for these rules:
Filename Format

All Uppercase

Valid Characters

Duplicated Keys

Encapsulation

No backslash on last position

Double quotes in Value

Balanced HTML Tags
Translator
Joomet has an integrated interface to DeepL API and allows you to translate your Joomla language files into all languages supported by DeepL.
Joomet also allows translation in formal form if supported by the DeepL API.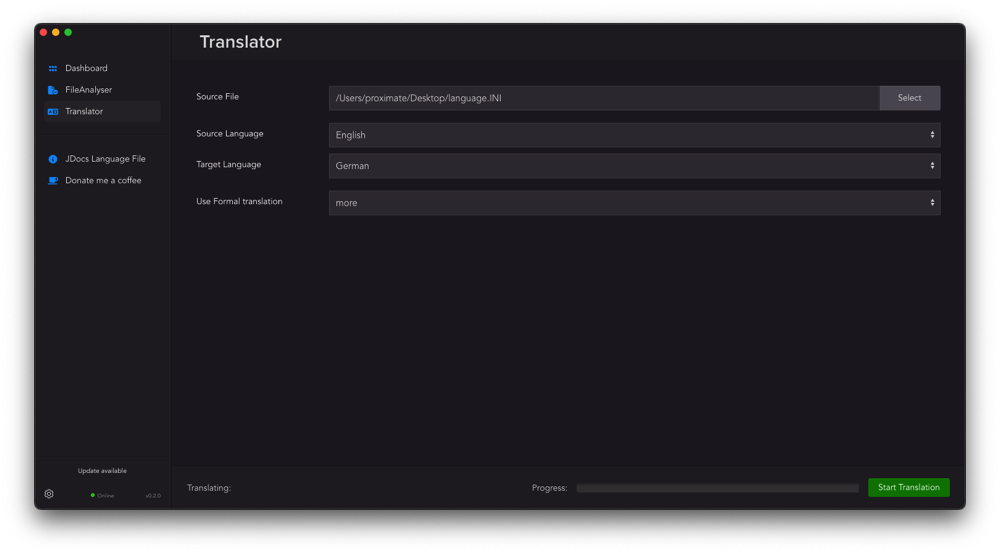 Currently supported languages (August 2022)
Please Note: The list may vary and it is possible that you will find additional languages in the app or that languages may have been removed. Joomet loads the list of supported languages automatically or on request (in the settings) directly from the DeepL API.
Translator Features
Supports currently 27 Source Languages

Supports currently 28 Target Languages

Supports formality for supported languages

Supports DeepL Free & Pro API Keys
Satisfied?
Joomet gives you more free time - Say thanks by sponsoring a coffee for my next debug session.
Frequently asked questions